Skiing and snowboarding are both amazing sports and can give participants a feeling of freedom and exhilaration like no other, but it involves an decent amount of planning and preparation as well as some very sport-specific equipment. Having all the right, properly fitted gear and dressing appropriately for weather can make the difference between an amazing day of skiing or snowboarding or a disaster, especially with little ones in tow. Plan ahead and consider these tips for a more successful first, second or 100th day on the slopes:
Gear Up Before You Go
Rent (or purchase) ski/snowboard equipment before you head to the mountains. Don't opt for borrowing a friends' equipment to save a few bucks or delay preparation to rent at the mountain. Resort rental lines can be painfully long, which will take away valuable time on the mountain. Additionally, equipment and size options may be limited at resort rental shops. Borrowing is never a good idea as proper ski, snowboard and boot fit is essential for safety as well as to maximize learning. You should also know that many shops will not adjust older ski bindings for liability reasons.
Bundle Up
The secret is to dress in layers. Many of the basic items for starting out may be right in your closet. Consider these tips:
Base Layer: Thermal underwear and thin to medium socks will help keep you warm and dry by pulling moisture away from your skin. Look for wool, silk, and synthetic technical fabrics with 'wicking' technologies. Avoid cotton; it holds moisture next to your skin making you feel cold.
Insulation Layer: Fleece shirts, flannels, turtlenecks, vests and sweaters are viable options. Face protection such as neck gaiters and balaclavas are great additions on cold days. On colder days, you can double up your insulation layer (you can shed it later, if necessary). Lean towards wool, wool blends or synthetic fabrics.
Outer Layer: The goal is to keep wind and snow out and warmth in with waterproof jackets, pants and gloves or mittens. Be sure sleeves are long enough and that you have sufficient overlap between your jacket and pants – so snow doesn't creep in.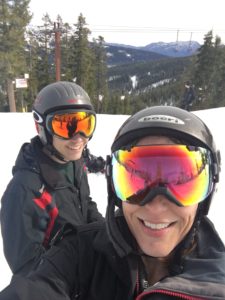 Lids on Kids (and adults too!)
Wear a helmet, it's a smart idea. Helmets are lightweight, comfortable and warm. A helmet can make a difference in reducing or preventing injury and many skiers and snowboarders today are choosing to wear them.
Eye Protection & Skin Care
Goggles protect your eyes from wind, sun and glare. They make it easier for you to see where you're going and what's around you. They are a must! Sunscreen – Snow reflects sunlight very effectively so it's easy to sunburn when skiing and snowboarding. Wear sunscreen and reapply at lunch.
Hydration & Nutrition
A hungry and thirsty skier is a tired skier. Our bodies need food and water to function properly. And while you may not feel hungry or thirsty when you ski or snowboard, you still need to eat and hydrate throughout the day. Take breaks to drink water and have a few snacks such as cheese sticks, nuts, dried fruit or granola bars (try to include protein and complex carbs). Not only will you feel stronger on the snow, but you'll also stay warmer. Water breaks are especially important for little ones. Skiing and snowboarding can burn more than 500 calories per hour!
Hand Warmers
An absolute must on cold days, inexpensive, disposable hand warmers are sold in resort shops, as well as at ski shops and sporting goods stores. Hand warmers fit in gloves and mittens and add a lot of extra heat. They usually last all day and then you throw them away.
Blue Angel Snow is a youth ski and snowboard program for kids ages 7 to 16 and includes 5 Saturdays of skiing or snowboarding with a pro, transportation to the mountains, lift tickets and more! We're in the business of teaching young skiers and snowboarders to love the mountains, learn and fine-tune their skills and become "lifers" in the sports of skiing and snowboarding. We know what a difference proper preparation can make. Visit www.BlueAngelSnow.com for more info on our winter camps for children and teens in California.