Planning a family ski trip to the mountains to ski or snowboard this winter? Whether it's your first time out on the mountain or you've been shredding all your life, we believe that proper preparation is the key to have a great day on the slopes, especially with kids in tow. Here are a few tips to help you and your family make it a good one:
Do Your Research
Plan ahead and research the resort that best suits your needs (distance, access, affordability, etc.). A great resource for choosing the right ski resort and planning a memorable family ski trip can be found at Ski.Com. Ski Magazine compiled a great list of the top 10 family resorts for 2019. Other family ski trip tips can be found at Learn a Snow Sport.org.
Check out the various season pass options and discounted lift tickets at Costco, Liftopia and Get Ski Tickets .If you are planning a mulit-day family ski trip, it may actually even be cheaper to purchase a season pass. Pick a less crowded day or time period to visit, such as mid-week or Sunday and always avoid busy holiday weekends whenever possible.
Research resort ski and snowboard school options, age ranges and reviews. Consider starting with a half-day for first-timers and younger children. The goal is to make the first experience a great one so they want to come back! I always like to factor in plenty of time to warm up and enjoy a hot chocolate in the lodge!
Make note of the parking options available (valet drop-off locations, shuttle buses). The less walking and carrying equipment around, the better.
Evaluate day locker and ski storage options to decide whether or not going back and forth to the car is feasible, especially with little ones in tow. Temperatures can change dramatically throughout the day and you may need to add or remove a layer or two.
Gear Up
Rent or purchase ski/snowboard equipment before you go. Don't opt for borrowing a friends' equipment to save a few bucks or delay preparation to rent at the mountain. Resort rental lines can be painfully long, which will take away valuable time on the mountain. Additionally, equipment and size options may be limited at resort rental shops. Borrowing is never a good idea, as proper ski, snowboard and boot fit is essential for safety as well as to maximize learning. You should also know that many shops will not adjust older ski bindings for liability reasons. Don't forget helmets!
Go with a Pro
Taking a lesson will help you and the kids have more fun and get better faster! Resorts offer group and private lessons for adults and children. Instructors always have a few tricks up their sleeves that can save hours of frustration and can propel you and/or your kids to the next level – whether you are a first-timer, beginner or already an expert.
Getting There
Know the weather and road conditions before you go and always carry chains. Check the current highway conditions for updated road conditions and restrictions. It's also a good idea to check the weather before you go to make sure you pack plenty of warm clothing and layers (read our blog post on layering up).
Arrive Early
Allow plenty of time to get there and get acclimated, especially with young children. You may want to scout out the lodging facilities, make a trip to the restrooms, grab some coffee or hot chocolate before gearing up. You can also check in with the Information Center or Customer Service to see if they have any updated resort information.
Bundle Up
While we don't recommend borrowing equipment (skis, snowboards and boots), it is perfectly acceptable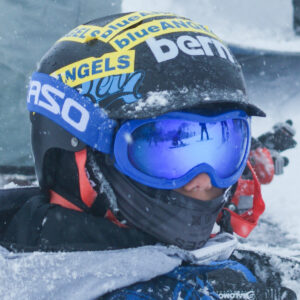 to borrow clothing and accessories from a friend. Some ski/snowboard shops even rent clothing and accessories such as helmets and goggles. It's important to note that dressing properly can make the difference between an epic ski/snowboard day and a not so epic one. The secret is to dress in layers. Many of the basic items for starting out may be right in your closet. Check out our blog post "Preparing for a Successful Day on the Slopes" for more info.
Skiing and snowboarding are both amazing sports and can give participants a feeling like no other, but it involves planning, preparation and equipment. Taking the time to plan out your family ski trip and prepare ahead of time can lead to a more successful first, second or 100th day on the slopes, especially with little ones. We're in the business of taking young skiers and snowboarders to the mountains to learn and fine-tune their skills and we know what a difference proper preparation can make. Visit www.BlueAngelSnow.com for more info on our winter camps for children and teens.