BLUE ANGEL SNOW
Blue Angel Snow program was founded in 1992 by Heidi Emery, who has spent most of her life immersed in the ski and snowboard industries. Heidi made her first turns at age 3 in Brian Head, Utah as one of the resort's founding families where her dad served as General Manager and business owner from 1968-1975. The ski resort lifestyle in Brian Head led to later posts for parents Bill & Gail Thompsen, in Yosemite (Yosemite Lodge) and South Lake Tahoe's Heavenly Ski Resort. Heidi and her brother Chris spent many years involved in competitive ski racing as a members of the Badger Pass Ski Team and Heavenly's "Blue Angels" Race Team. After leaving the mountains to attend UCLA, Heidi followed her passion upon graduation. She found an open position at Southern California-based Surfer Publications, publishers of Snowboarder and Powder Magazines.
Skiing has always played a major role in Heidi's life and she believes that the life skills learned through skiing gave her the confidence to set and achieve her goals. This served as the motivation behind starting the Blue Angels program – with the hope of sharing this passion with other children and teenagers and watching them gain confidence through their achievements on the slopes.
Heidi's husband Griff Emery is no stranger to the ski/snowboard industry either. Griff is the co-founder of LA Ski & Sun Tours, one of the largest student tour operators in the Western U.S., Griff started LASST while also attending UCLA. His current position is Founder/President of Shout About Us, Inc., a tech start-up company. Griff throughly enjoys overseeing the camp at Sierra-at-Tahoe, making sure each and every young skier and snowboarder enjoys his/her time on the slopes.
In addition to being avid snow-riders themselves, Heidi and Griff have passed along their passion for the mountains and winter sports to their children Cobi and Kaili. While they are both busy with work and school, they always manage to find time to ski and snowboard with the family and sometimes even help out with the camps.
The Blue Angels Youth Ski & Snowboard Program is a division of Action Sport Tours, Inc.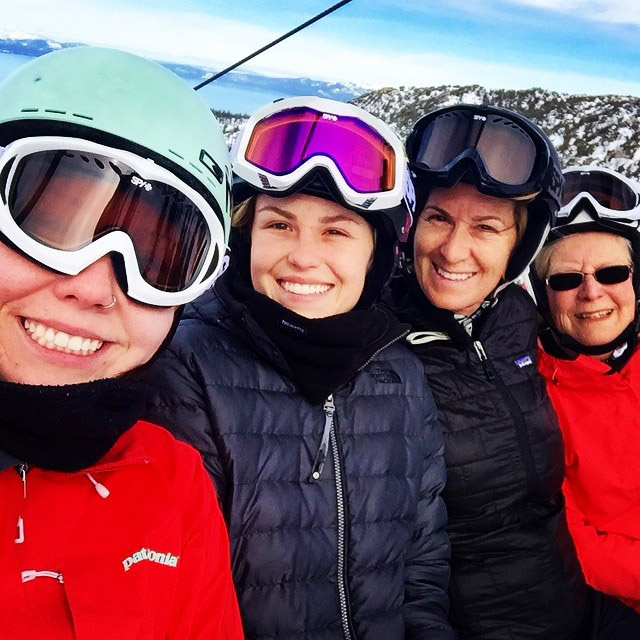 Three generations skiing together – Heidi, founder of Blue Angel Snow; her mother Gail; daughter Kaili and niece Emily
Heavenly Ski Resort – 2016