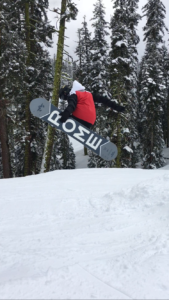 I started snowboarding lessons in the third grade when I was 8 years old, my mom took me to Dodge Ridge for my first lesson and after that she started to take me up to Boreal about 3 or 4 times a year for group lessons, by the time I started with Blue Angels in the 7th grade I was 12 years old and getting pretty good at snowboarding. My mom was looking for a club that I could make friends and snowboard with. She found Blue Angels. I really liked Blue Angels because I could go 5 times a year; I got to meet a lot of cool people and was still able to have a coach on the slopes which helped me to improve my skills.
In my senior year of high school I had the opportunity to be a Junior Chaperone with Blue Angles which was a great experience working with the leaders in helping with operations.
Blue Angels is now giving me another opportunity to lead in a scouting Snow Sports Merit Badge as a counselor, I am really looking forward developing this program for the 2018 snow season!
To learn more about our Snow Sports Merit Badge program email us or visit our Merit Badge Blog Post.