Like many other parents, I'm constantly on the lookout for new adventures and learning opportunities for my kids. During the academic year, we supplement their schooling with lots of extra-curricular activities (viz., tennis, soccer, dance, gymnastics/parkour, Cub Scouts). During the summer, we carefully select the camps they attend, so they can discover new passions and deepen existing ones. In the wintertime, we have increasingly turned to snow sports for their growth edge.
This year marks my oldest son's second year and his younger brother's first year in Blue Angel Snow. PJ (age 9) and KC (age 7) both love the program—and eagerly look forward to it all week—but for very different reasons. As their mom who's also served as a chaperone both years, I've seen firsthand how they've both grown in ways specific to their unique temperament and needs.
PJ is the more headstrong of the two and historically also a "fast[er] learner." He's a confident kid who's been used to many things in his (young) life coming relatively easy to him. Those aren't unqualified goods, however, because he's also one to have expectations about his performance that exceed his current abilities. For instance, at his first tennis lesson, he became frustrated that he wasn't playing an actual match; the coach and I later had to explain to him that he first needed to learn all of the components of tennis (viz., forehand, backhand, serves, volley) before he would be ready for an actual game.
PJ approached snowboarding with a similar, gung-ho attitude. A year prior to his first season with Blue Angel Snow, he had spent two days on the slopes in group lessons wherein he had learned beginner-level skills (e.g., how to skate, stop, ride flat, enter and exit the chairlift, turn toeside and heelside, ride switch). He thus started Blue Angel Snow thinking that he was ready for (intermediate) blue square runs and the terrain park! Without squashing his spirits, the Mountain High Resort instructors that work with Blue Angel Snow were able to teach him the importance of refining and perfecting those basic skills, so as to lay a firm foundation for more advanced-level riding.
As his mom, I've been most appreciative not only of the instructors' careful step-by-step instruction, but also their willingness to permit those kids who want to "push the envelope" to do so. In PJ's case, this has meant that he and other willing participants in his class learned how to do basic jumps in week #3 of last season, took their first black diamond run in week #2 of this season (which he reported as having been "cool, but a bit scary"), and even rode through the trees(!) in week #4 of this year.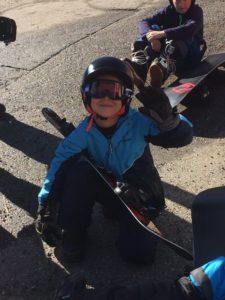 My youngest son, KC, is a different story. He's happy-go-lucky and willing to try most new activities. We signed him up so that we could eventually go on snowboarding trips as a family—not because he had expressed at his young age an independent desire to learn how to ride. While we of course wanted KC to progress (skill-wise) over the course of the five-week program, it was even more important to us that he have an overall positive experience, regardless of how much (or little) he'd learn.
Blue Angel Snow has definitely delivered on that front. Truth be told, KC's favorite things about the program have little to do with actual snowboarding! For his older brother, PJ, it's been the learning of new tricks, going on more difficult runs, and then seeing videos of himself riding "après-ski" (that his instructors have graciously shot for him) that he's loved the most. For KC, in contrast, it's been more about the bus rides there and back (because of the friends he's made and the movies he's gotten to watch), the fun music Heidi (the founder) plays during lunch, and all the yummy snacks and other occasional SWAG that have been on offer to program participants at the "hydration station" during breaks. He's also really loved frolicking in the snow with other kids his age and receiving encouraging "high fives" and fist bumps from the junior chaperones.
I'd be remiss if I didn't add that in the midst of having so much fun, KC, too, has progressed in the sport.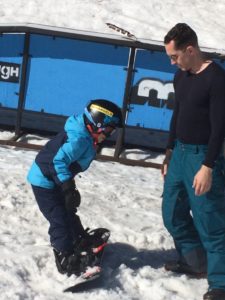 Before the start of the season, he couldn't strap into his snowboard bindings without assistance, was intimidated by the chairlift, and couldn't quite get the mechanics of the heelside falling leaf. Over the course of successive weeks in the program, however, I've seen him manage all of his equipment on his own, approach and exit the chairlift with confidence, grow in comfort with speed (even as he remains cautious), and be on cusp of linking his turns. I even had a proud mama moment in session #4 when I saw him stick it out with his class and not retreat for shelter (as a fraction of the other kids in the program did for the totally understandable reasons of being cold and wet) during the approximately 1 hour snowstorm that had hit the resort. Not bad for a 7-year-old!
No doubt Blue Angel Snow has required a sizable investment of our family's time and money. I'm happy to report that it's been totally worth it on all accounts. We're already planning to sign both kids up again next season. Might you consider having your kid(s) join them, too?