I come from a family of avid skiers – some might even say fanatics.  Growing up in Washington state, my three siblings and I spent nearly every weekend up on the mountain.  So, when I had my son, Zach, there was no question as to whether or not he would learn to ski, only how soon he could do so after learning to walk.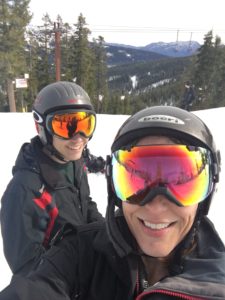 Shortly after his fifth birthday, I eagerly packed him and all of our gear into the back of the car and headed for Tahoe.  Hours later, we arrived at the ski resort. Zach, bored and impatient to hit the hill; me, exhausted from the long drive.  I nearly turned around and headed back when I realized that I now had to figure out how to get a 5-year-old, 2 bags of ski gear, skis, poles, and boots from the outer parking lot all the way to the lodge. I may be a ski fanatic, but there's a limit to the amount of pain even I will experience for the sport. I figured there must be an alternative.
 Enter the Blue Angels. A neighborhood friend mentioned it, saying that her son had learned how to ski through the program.  She raved about it.  So, I signed Zach up.  Then, shortly before the season began, they needed another chaperone for the bus and I volunteered.  As a chaperone, I got to experience the program first-hand.  After that first 
Saturday
, both Zach and I were hooked.  Zach loved hanging out on the bus and the ski hill with other boys his age; I loved how much he learned after just the first day.
Every chaperone seems to have their role.  Mine is substitute mother.  I help the younger ones get their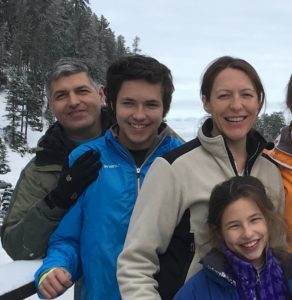 boots on, find their (inevitably) lost gloves, hats, and socks, and shepherd them to and from dinner, making sure they don't lose their change or spend all of their money on dessert.  I want every kid on my bus to love skiing (or boarding) as much as I do.  There's nothing better than hearing the excited chatter at the end of the day, as kids describe the "crazy sick" run they did, or how they sprayed the instructor with snow after learning a quick stop.
This January will be my 10th year as a chaperone with Blue Angels.  Zach is now an advanced skier, who leaves me in the dust on the hill, and it's his little sister, Lizzy, who rides the bus with me, laughing with friends and skiing her heart out on the mountain. I look forward to seeing familiar faces on the bus and getting to know those who are new to the program.  There's not a better way to spend a winter 
Saturday
!